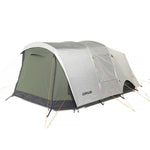 Crua Tri Double-Sided Reflective Flysheet
Regular Price

$ 149.99 USD

Sale Price

$ 149.99 USD

Regular Price

Unit Price

per
Tax included. Free Shipping over $100 excluding Rooftop Tents*
The ultimate add-on to the CRUA Tri Tent to completely enhance your camping experience. Stay Cool in the Warm Weather by turning the Reflective Side (Silver Side) Outwards and Snug in the Chilly Weather by turning it Inwards (Green Side Facing Out)
A portable, easy to manoeuvre, double-sided reflective flysheet designed for use with your CRUA Tri. Stay cool in warm weather by turning the reflective side outwards and snug in chilly weather by turning it inwards.
This flysheet was designed to perfectly fit around the CRUA Tri Tent and is 

portable and lightweight which makes it easy to manoeuvre

This Rainfly allows you to stay cool in warm weather by turning the reflective side (Silver Side) outwards and snug in the chilly weather by turning it inwards (Green Side Out)

The Tri Reflective Flysheet is made from high quality 185T waterproof polyester which allows it to be as durable as it is

The Tri Flysheet has an easy 1 person set-up and mounting system so you will have no difficulties setting this up
Dimensions
Fits the CRUA Tri 3 Person Tent
Weight
Packed Weight: 4.4lbs / 2kg
Materials
185T Waterproof Polyester
Specs
Double Sided
Water Resistant
Lightweight
FAQ
We know that you may have some questions about our products - so we've got a dedicated FAQ Page that can answer them.
If you still cannot find the answer to your query, please do not hesitate to Contact Us.

Documents
Your Crua Warranty
All of our Crua products carry a full two-year warranty against any defects in materials or workmanship. If for any reason you are experiencing an issue that you feel falls under our Warranty, we will be happy to help. For more information on our Crua Warranty please visit our Returns & Warranty Page
Care
Care and maintenance for your Crua is very important to ensure it lasts for years and the warranty stays in tact. Check out our Product Care Instructions for help looking after your Crua.
More About Our Product
Crua Tri Mk2
Crua Tri
Crua Tri 360 View
Crua Tri Double-Sided Reflective Flysheet
Thank you Wing for your feedback:)
Greetings,
Crua
Really like it and it works well !!
Yes, this is a great ADDITION to my TRI tent ! Keeps it on in both colder days and warmere days makes it less hot and less cold at night and day , so regulates quite a few degree. For very haapy so i can choose to stay more in the tent if its a hot day.Been using my TRI tent for 4 years about 2 month per year spring summer or autum. I the strong heat with windstill it can only redose some and there I really miss that the back does not have a opening to a big went high up, where the flysheet actually have a mesh window..Will it come on next editions of the TRI I wonder ? But highly recommend and I love my TRI more than icecream as it feel like a little home and I had many tent before that did not give that experience even larger cotten luxury ones, as this can be used all day no matter the weather. Windows and mesh are magic in the inner to see our and zips work perfect. I can highly enough recommend this tent for singles or couples, or the lone outdoors man that want a little solid tent to have a base weeks or month. Mine is tested in all weather and does not move much even in storms. If any improvement is possible on this flysheet? I does make a little bit of sound in wind, so maybe if you know some fabric to put into the mix a bit, that makes it even more quiet to match the quiet tent. The fit is good even it takes some little time and training to learn to put it on. I let mine stay most the time and in this way it protects also the nice green outer canvas from bird droppings.It is a quality brand and nothing has broken which means alot to a heavy user like me. Thank you all at Crua outdoors !
Hi Jesper,
We are really happy to hear, that the Tri serves you well! Thank you also for the feedback on the Flysheet!
We hope, that you will be able to use the Tri for many more years!
Thank you for your support and have a great camping season!
Crua Crew
You get exactly what they advertised! Perfect!
When Crua says their Flysheet reflects heat from the sun away and keeps the inner cocoon cool,and helps hold warmth in during the cooler temperatures, they mean exactly that! In fact, the whole set-up for the Crua Tri and Reflective Flysheet is superb! It's worth every penny. Every. Penny!