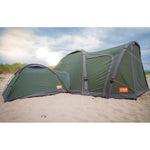 Refurbished Crua Core
Regular Price

$ 1,159.99 USD

Sale Price

$ 1,159.99 USD

Regular Price

$ 799.00 USD

Unit Price

per
Tax included. Free Shipping over $100 excluding Rooftop Tents*
The ultimate living space. The Crua Core is the ultimate living space/camping tent for family and friends. It is easy pitched in seconds, fitted with strong air-frame poles. The Core has two handy side doors and one large front door to allow a tru...
The ultimate living space. The Crua Core is the ultimate living space/camping tent for family and friends. It is easy pitched in seconds, fitted with strong air-frame poles. The Core has two handy side doors and one large front door to allow a truck/car to attach. It has a large front canopy, perfect for socializing away from the sun/rain. The Crua Core allows up-to three Crua Duo's and Crua Cocoons to attach for smaller bedrooms.
Shipping: Refurbished tents in the US can only be shipped to the US.  Refurbished tents in the EU can only be shipped to the EU.
Note: The Refurbished Crua Core DOES NOT include a pump.
Variant:

Class C $ / US Only
Dimensions
Width:

16ft / 488cm

Length:

12ft / 366cm

Height:

7.5ft / 226cm

Total Floor Space:

192 sq. ft / 17.8 sq. m
Weight
Trail Weight:

33 lbs / 15 kg *

*Trail weight refers to the weight of the tent body, rain fly and poles ONLY. This is also referred to as 'minimum weight'. Packed weight is not the same as trail weight.
Materials
Breathable polyester with water-resistant outer layer:

Hydrostatic Head 5000mm

Structure:

Airframe Structure
Features
Sleeps:

6 persons

Bug Mesh:

B3 Bug Mesh

Warranty:

2 Years

Jumbo Zips

Fire Retardant
FAQ
We know that you may have some questions about our products - so we've got a dedicated FAQ Page that can answer them.
If you still cannot find the answer to your query, please do not hesitate to Contact Us.

Documents
Your Crua Warranty
All of our Crua products carry a full two-year warranty against any defects in materials or workmanship. If for any reason you are experiencing an issue that you feel falls under our Warranty, we will be happy to help. For more information on our Crua Warranty please visit our Returns & Warranty Page
Care
Care and maintenance for your Crua is very important to ensure it lasts for years and the warranty stays in tact. Check out our Product Care Instructions for help looking after your Crua.
More About Our Product
Crua Clan Dimensions and Crua Core Features
The Crua Clan
Amazing tent
Iv had my crua core for about 7 years and I have no complaints it has every thing and is built really well this is an amazing product. I got a digital pump and set it for the proper psi and step back amazing results
Thank you Terry for the great review!
Enjoy camping with the Core for another 7 years and more:)
Best tent ever
I was a little worried about buying a refurbished tent, but they did a great job. It looked brand new and it's holding up great. The core is used like a living room for us and we love it.
Hi Jeremy,
Your description fits the Core perfectly. It is like the center of a home, especially when you set it up with the Duo tents:)
Enjoy your summer!
Crua Team
All the room in the world
Big tent you won't be cramped and or hunched over in this tent. One thing thou is you need to be sure you have the space to set it up it's a pretty big foot print.
Hi Cole,
Thank you for your review. It is indeed a big tent and needs some extra space, but it also means, that it can accommodate more people and comfortable, just like you described it!:)
We hope you will use the Core for a very long time!
Crua Crew
Amazing
We got the Core with a Duo and Duo Maxxx for our family camping adventures. The system is built tough and very versatile. Im 6'3 and I cant touch the ceiling of the Core when standing in side. We love the way the Duo tents can be attached and removed where and as needed, or packed separately for short hikes away from base camp. We love the system. The only downside is pore ventilation on hot days. The thermal shields are great, however, there just isnt enough ventilation in the Crua tents to allow for decent breeze in hot climates like we have here in Africa. Setting up smart in the shade of trees and using the thermal shields certainly helps and makes it barrable though. We have also glued in some hang points in the Core for hanging collapsable shelves and other items.
Hi Barron,
Thank you for your amazing and detailed feedback. It's great to hear, that you can use the tents in Africa in different set-ups, and what a creative way of making the Core more like a home. We are sorry to hear about the ventilation problems you are experiencing. I'm wondering if some portable fans would be able to help you with some extra ventilation.
We wish you long and fun adventures with the Core and the Duos!
Crua
great product and great service!
great product and great service!
Hi Jason,
Thank you! We are happy that you were satisfied with our service!
Have a great time camping,
Crua Team
Great tent. Rain fly not included.
Love just about everything. Wish rainfly was included and that there was a ground sheet available.
Hi Deb,
Thank you for your great feedback:)
We reached out to you regarding the Groundsheet.
Happy Camping,
Crua
Great tent! Even better with Culla Family!
We used just the CORE tent for over two years and really loved it. After trying many other brands with different sizes and shapes, this was by far the best. Our two sons (11 and 9 when we got it) set it within 30-45 minutes. Some time wasted bickering over who gets to use the hand pump first.
We pre-ordered the Culla Family and finally got it in April 2022. We took off that weekend for short camping trip. What a great addition! With the Wind Chill of 29 degrees Fahrenheit and a 9mph breeze it made a big difference.
I noticed the new addition to the CORE with ventilation at the bottom. I wish I had that on mine.
The only other thing that would be nice is a removable ground tub for the porch. If it had a zipper on the tent side, then attached to the air beams in the corners. That would be enough to hold its shape.
Best tent I have ever owned
I have had the Core for just over two years now and we have used it 20-25 trips. It is hands down the best tent we have ever owned. After you get a good process in place, it takes about 7 minutes to setup and stake down. 10 minutes to take down and bag it up. Never leaks and holds up great to wind. The vestibule is huge and has plenty of room to keep your gear, food, and a table. Cruas quality is top notch and the customer service team is always polite and helpful. I'm excited to see what they think of next.
Far better than we'd hoped for
We purchased our Crua Core during the 120 day total COVID lock down in Victoria, Australia. Consequently, apart from putting it up in our living room (it was winter and the ground was saturated) and once more in our back yard after we were allowed to travel again it was several months before we were able to use it. We purchased the fly as well as it gets very hot (40+) during our summers. We were a concerned that it would really be suitable for our touring needs, but we needn't have been concerned. Our first camp was at a caravan park and surprisingly, after only one real practise, we had no issues putting it up. During our stay of several nights we experiences strong winds and heavy rain one night. Not a single leak and it withstood the winds beautifully. Our next use was touring in the Victorian High Country. The ease of pegging and inflation is great. We do use a very low pressure air pump to partially fill the tubes, which speeds the process, then finish off with the Crua hand pump. The rapid set up and pack away is a real strong point when moving each day. We leave the fly in place over the tent which also speeds the process up considerably in spite slightly delaying the tubes in supporting the tent. One of our friends purchased this tent after seeing ours and hearing our recommendation. There's so much room and the front awning provides enough shelter to sit, relax and cook when the weather is against us! We love our Crua Core and thoroughly recommend them!
A fantastic tent
Purchased this tent a week before Thanksgiving. Spent 5 days 4 nights in Parker AZ over Thanksgiving. Second night through a 6 hour thunderstorm complete with 35mph winds. No leaks, no issues whatsoever. Completely dry and comfortable throughout. What a great tent. Will be ordering a 3 man insulated when they are available in January to accommodate colder weather.