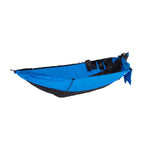 Crua Koala Maxx
Regular Price

$ 184.99 USD

Sale Price

$ 184.99 USD

Regular Price

Unit Price

per
Tax included. Free Shipping over $100 excluding Rooftop Tents*
The CRUA Koala Maxx Hammock is the ideal feature full 2 Person Hammock. The Koala Maxx is one of our most prized possessions here at CRUA as it was one of the most successful and record breaking crowdfunding hammock campaigns of all time!
The CRUA Koala was one of the most successful and record breaking crowdfunding hammock campaigns of all time! And this is the Version 2 of just that but better!
Why is it called a Koala? Well I mean who doesn't love a Koala! Koalas can sleep up to 18 hours a day! Which, if you really wanted you could too because this Hammock is so comfortable!
Bunoscionn in Irish Gaelic means "upside-down". Our new "Buno" Spreader Bars were designed to clip under the hammock. This means nothing gets in your way - and space for your face. The whole system is not complete, however, until you use our "Scionn" Tabs, located at the side of the hammock to guy out to the ground and ensure optimum flat-lay positioning.

Our Koala Maxx Hammock not only fits 2 people but is kitted with anything you may need! It comes with 7x Adjustable and Removable Waterproof pockets, 360 degree bug mesh is included as well as strong tree straps for an easy hammock setup. The Koala Maxx Hammock also has 2 adjustable positions, sit up or lie back.

Whether you are hiking up a mountain and want to chill at it's peak or you just simply want to wind down after work in the back garden this Hammock has you covered from all angles.

"How do we make it so damn comfy?" We took the natural position of the human body, the way it contorts and moves and how it interacts with your typical hammock. Typical hammocks were okay; but they were, you know- typical..
Dimensions
Hammock Open and Stretched Out: 9.8ft / 300cm long x 78" / 200cm wide
Hammock packed (with carabiners): 11" / 28cm x 5" / 12.7cm
Bug mesh packed: 7" / 17.8cm x 5" / 12.7cm
Weight
Adjustable tree strap system: .85 lbs / 0.385 kg
Spreader bars: 0.3 lbs / 0.140 kg
Bug Mesh: 0.83 lbs / 0.375 kg
Koala Maxx Hammock: 1.24 lbs / 0.565 kg
Weight Capacity of Koala: 450lbs / 205kg
Materials
Tree Strap Material: Heavy-Duty Polyester Webbing
Hammock Material: 210T Nylon (Parachute)
Waterproof Pockets Material: 210T rip-stop polyester, 3000mm waterproof
Features
Capacity: 2 persons
Pockets: Removable Pockets
2 Positions: Sit back or lie down
Warranty: 2 Years
What's in the Box?
Koala Maxx Hammock, Tree Straps, 2x Carabiners, Air Pillow, Bug Mesh, Spreader Bars, Pockets for Hammock.
FAQ
We know that you may have some questions about our products - so we've got a dedicated FAQ Page that can answer them.
If you still cannot find the answer to your query, please do not hesitate to Contact Us.

Documents
Your Crua Warranty
All of our Crua products carry a full two-year warranty against any defects in materials or workmanship. If for any reason you are experiencing an issue that you feel falls under our Warranty, we will be happy to help. For more information on our Crua Warranty please visit our Returns & Warranty Page
Care
Care and maintenance for your Crua is very important to ensure it lasts for years and the warranty stays in tact. Check out our Product Care Instructions for help looking after your Crua.
More About Our Product
Crua Koala V2
Crua Koala Unboxing & Setup
Crua Koala Easy Setup
Thank you Geoffrey!
Have a great time,
Crua
Thank you William for the 5 stars:)
Greetings,
Crua Team
Awesome!
With all the extra features it was a little more to set up and figure out, but it was super worth it. No expense was spared making this. material quality, durability, a features are next level. The pockets are so dope. It's comfortable and warm. A few tips: pockets can be velcroed either way so they hang inside or outside. With the poles that hold it open and the quilt attaching to them this hammock is more sensitive than others to being hung level. So pay attention to the height of your clips and keep them even. Diagonal lay still works and straight lay is more comfortable that without the poles. Can't recommend enough!
We love our Koala!
This Hammock is the coolest most practical one I've ever tried! I love that it comes with loads of removable attachment bags for all your items like phone, book, insulated beer holder and even one for your hoodie or a blanket. There's nothing worse than things getting lost in a hammock and trying to find them whilst suspended in the air lol. I love that it has spreader bars also to help it have some shape and that it comes with pegs so on windy days you can anchor it and stop it from swaying so much. It's very good quality!
Hello Trisha,
We are so happy to hear your out enjoying your Crua Koala. Thank you for your support and feedback.
Happy Camping,
The Crua team
Is this the greatest hammock of all time?
Great Set
Finally got to test our my Crua Koala Maxx set this weekend. We went on a 2 day campout as a scout group and thought this would be the perfect time to test it out. Setting up the hammock and bug net was super fast and easy. The tarp took a little time for me but as this was my first hammock camping experience I will blame user error on that. It was warm enough that I didn't need the under quilt but it does seem to be a quality piece that will do the job just fine. I have to say this weekend was probably the best nights sleep I had in the outdoors! I can't wait to get out there and us my Koala again! Thank Crua for an amazing product!
It's great but bugs still get you
Great hammock! Great quality and the setup is a breeze. Unfortunately though being the mosquito magnet that I am those little buggers still got me from the bottom as the weight of my partner and I pulled us down to the net.
Still love it though and would happily buy again! My partner got zero bites haha
My Cat Loves it!
Hi. Just received mine today. I didn't expected to happen before Christmas but it was nice. I can wait enough the sunny days. The quality seems good. Unfortunately for me, my cat decided that she loves it more and I have to convince her to let me use it. :)
The quilt is huge. I didn't expected to be like this but it's good, because I can now sleep in even lower temperatures. :D
All in all I like it. Thank you Crua team! Happy holidays!
Luxurious!!!!
Received mine yesterday !! Excellent quality, it's been raining a lot here so i couldnt set it up outside but that'll be done asap… It's bloody huge, it feels overly luxurious sitting in that thing i love it :')
Thanks for delivering such a good product, i'm thoroughly enjoying it :D
Indiegogo
I received mine today (Netherlands). Very happy with this and can't wait to use and enjoy it. Thanx Crua team! I wish you all very Happy Holidays and a great 2021 ;-)